WILLIAM H. DANCE
,
SENIOR COUNSEL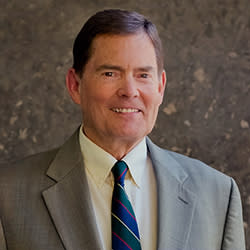 Education
University of California at Berkeley, B.A.
University of Southern California School of Cinematic Arts, M.F.A.
Harvard Law School, J.D.
Bill Dance is Senior Counsel in the firm's Litigation Department.  Bill primarily represents clients in business litigation, including real property ownership, development, and rights, commercial and residential leasing, entertainment, and intellectual property.  He also represents clients in product liability actions and regulatory actions related to food and supplement labeling, pharmaceuticals, and medical devices, and over-the-counter personal health products.  Bill represents his clients not only as a litigator, but as a counselor in risk avoidance and mitigation.
Bill represents clients in federal and state courts, arbitrations, and mediations.  He has tried, arbitrated, or mediated a wide range of disputes in his practice areas.  Bill has also served as a volunteer city attorney and county deputy district attorney, serving as lead prosecutor in a number of misdemeanor criminal jury and bench trials as well as evidentiary hearings.  Bill also has a strong interest, and has developed a special expertise, in the area of electronic discovery.
Bill regularly represents pro bono clients in association with Bet Tzedek and Alliance for Children's Rights, representing unaccompanied minors who have immigrated and are seeking to obtain permanent residency and families seeking to adopt their foster children.
Prior to joining Sklar Kirsh, Bill practiced at O'Melveny & Myers and Tucker Ellis.  Bill received his B.A. from University of California at Berkeley, graduating with Highest Honors.  He went to USC's School of Cinematic Arts where he graduated with an M.F.A. in film production.  He worked in the film and television industry as a screenwriter, director, producer, and editor for fifteen years before deciding he would rather practice law, whereupon he attended Harvard Law School and was awarded his J.D. in 2003.
When he is not working, Bill spends his time with his family, including a son and two daughters.
Speaking Engagements
"Ending the Endless Litigation Hold," Women in eDiscovery, Los Angeles Chapter Meeting, Tucker Ellis LLP, Los Angeles, California (November 2017)
"Artificial Intelligence – Facial Expression Analytics as a Competitive Advantage in Risk Mitigation," 2017 SoCal Information Governance Retreat, Newport Beach, California (October 2017)
"The Art of the Litigation Hold," eDiscovery Speaker Series, Los Angeles, California (December 2016)
"Litigation Information Management," 2016 Social EDiscovery & IG Retreat, Newport Coast, California (November 2016)
Publications
"Experts Liberally Construed," Los Angeles Lawyer (October 2018)
"California's Evolving Standard on Expert Opinion Evidence," Law360 (February 2018)
"Federal Courts in California Split Over Standing to Sue for 'Unlawful' Food Labeling," Legal Opinion Letter, Washington Legal Foundation (March 2014)
Preserving Electronically Stored Information: A Practical Approach, Bloomberg BNA Books, co-authored with Jeffrey Fowler  (2013)
"Federal Rule of Evidence 502: Lessons from the First Year," ABA Section of Litigation, Pretrial Practice & Discovery Newsletter, co-authored with Amy Longo (Winter 2010)
"Federal Court Rejects Use of 'Quick Peek' Agreements under Federal Rule of Evidence 502," available online to subscriber of Practical Law Company, co-authored with Amy Longo (January 2010)
"Ninth Circuit Opinion Evaluates Privacy Protection for Text Messages" (July 2008)
"Made in China Safety: Tips for Preventing and Managing Controversies," In-House Defense Quarterly, co-authored with Brian Anderson (Spring 2008)
"National Conference on Uniform Laws Approves Electronic Discovery Rules" (September 2007)
"Two Courts Require Production of Electronically Stored Information in Native Format" (May 2007)