SERINEH BAGHDASARIAN
,
PARTNER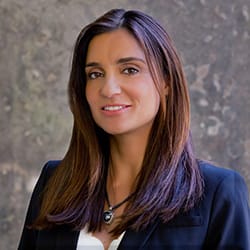 Education
University of Southern California, B.A., Summa Cum Laude
Columbia Law School, J.D., Kent Scholar
Serineh Baghdasarian is a Partner at Sklar Kirsh LLP in the Real Estate Department. Her practice experience includes extensive representation of real estate private equity funds, developers, and institutional and non-institutional investors in all areas of transactional real estate and real estate finance, including: construction, permanent, securitized, and mezzanine financing; the acquisition and disposition of vacant land, office buildings, apartment complexes, and other commercial, residential and mixed-use properties; the formation and representation of limited liability companies, general partnerships, and other joint ventures; the syndication of real estate investments; and the representation of commercial tenants and landlords in connection with office, retail, and other commercial leasing transactions.
Prior to joining Sklar Kirsh, Serineh was an associate in the Real Estate Practice Group of Gibson, Dunn & Crutcher, LLP, where she represented real estate private equity funds, lenders, and other institutional clients in cutting-edge real estate and real estate finance transactions. Serineh also has an entrepreneurial background, as she was the founder and director of ScoreMax, a test preparation company providing at-home and classroom style test preparation services prior to joining Sklar Kirsh LLP.
Serineh received her Juris Doctorate in 2006 from Columbia University, graduating with honors as a Kent Scholar. While in law school, Serineh was a member of the Business Law Review and received an award for Best Oral Argument in her Moot Court program. Serineh received a dual Bachelor of Arts degree in Economics and Political Science and a minor in Business from the University of Southern California. Serineh received the Emma Josephine Bradley Bovard Award for having the highest GPA in her graduating class.
Serineh is licensed as a broker with the California Department of Real Estate and is an active real estate investor.
Serineh was recognized as a Super Lawyers Southern California Rising Star from 2017-2021. Serineh was recognized as a 2022 Women's Leadership Award Nominee by the Los Angeles Business Journal.